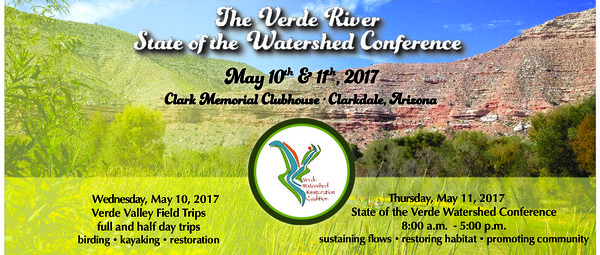 REGISTRATION OPEN!
The Verde River: State of the Watershed Conference 2017
February 22, 2017
The Verde Watershed Restoration Coalition (VWRC) announces
The Verde River: State of the Watershed Conference
for May 10-11, 2017. This two-day event will kick-off with Verde Watershed Field Trips on Wednesday, May 10, where participants can select from of a dozen field trips will be led by local watershed experts across the Verde Valley. On Thursday, May 11, The Verde River: State of the Watershed Conference will be held at the Clark Memorial Clubhouse, in historic Clarkdale, Arizona.This event is held to bring together the broad network of partners, community members, local leadership, scientists, restoration practitioners, business owners, and all other river enthusiasts who have a vested interest in the health of the Verde River Watershed. The event will open to the public. Registration begins Friday, February 22, and event tickets are $35 for entry to the two-day event. The ticket price includes access to field trips and conference activities, with only two of the 12 field trips planned having an extra cost (
see registration for details
).Field trips highlight the Verde River Watershed's recreation, ecology, hydrology, restoration, wildlife, and community. Trips will take participants from the Verde River headwaters in Prescott, and throughout the watershed on the Verde Valley Railroad in Perkinsville, on guided tours of Oak Creek Canyon and Fossil Creek, and on a kayak trip on the Verde River in Clarkdale. Other trips include birding at Sedona Wetlands and Page Springs; the Verde River at Yavapai Apache Nation; a tour of Tavasci Marsh at Tuzigoot National Monument; and tours of Verde River restoration sites with VWRC and The Nature Conservancy.
Day two of the conference be welcomed by Mr. Vincent Randall, Elder of the Yavapai Apache Nation, and will also bring us keynote speaker Sarah Porter (of the Kyl Center for Water Policy). The conference speakers and sessions will bring participants into the folds of the state of the Verde River Watershed centered around discussions on Sustaining Flows, Restoring Habitat, and Building Community.
Sponsors of The Verde River: State of the Watershed Conference include: The Walton Family Foundation, National Park Service, Salt River Materials Group, Town of Clarkdale, Freeport McMoRan, Arizona Game and Fish, Oak Creek Watershed Council, Town of Camp Verde, Sedona Chamber of Commerce, American Rivers, Nextwest Consulting, and the Tamarisk Coalition.
VWRC invites all of you—our community, partners and friends—to join us for this inaugural event, and contribute to its success. Visit http://www.verderivergreenway.org to see The Verde River: State of the Watershed event schedule, registration, and sponsor information.
To become a sponsor of this event, or regarding any questions or concerns, please contact Laura Jones, Conference Planner, at laura@verderivergreenway.org , or (928) 451-6860.
VWRC is a program of Friends of Verde River Greenway. VWRC in a collaborative effort uniting landowners, organizations and agencies in their common interest in the health of the Verde River Watershed. Friends of Verde River Greenway is a 501-C3 non-profit organization. Friends of Verde River Greenway restores, preserves and promotes the natural, cultural, scenic and recreational resources of the Verde River and its tributaries.